There are times in this pandemic when all of us have felt like frustrated kids in the back seat of our parents' car, demanding to know when we will get there. The political and public health leaders at the wheel of the response have also grown weary of the road. As Premier Daniel Andrews has told us many times in his most patient dad voice, we all want it to be over.
The journey has never felt as confused, nor the ride quite so hairy, as it did this week. Just as we could finally see the approach of our destination — the vaccine threshold which triggered the removal of nearly all remaining COVID-19 restrictions — the government was urgently demanding new coercive powers which could be used to lock us in our homes, shut businesses and detain people without charge, trial or judicial review.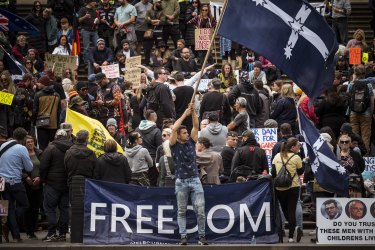 If you look past the conspiratorial carnival parked on the front steps of State Parliament and the chaotic scenes that unfolded within its upper house, where Labor's outcast MP Adem Somyurek returned to the crossbenches to disrupt the government's plans, the sense of discombobulation was best captured by Andrews himself when he told us it was safe to go out dancing but at any moment, a "diabolical" new variant of the virus might cut in.
Victoria, like NSW, is one of the few jurisdictions in the world where, by the end of this weekend, nine out of 10 people aged 12 and older will be fully vaccinated against COVID-19. The implications of this, and the probability that future outbreaks of the virus can be managed in the same way we have long dealt with seasonal flu, are life-changing for a population that spent longer than any other in lockdown. Dr Nick Coatsworth, a former adviser to the federal government's pandemic response and public face of the national vaccine rollout, says all governments in Australia have been slow to accept that although the pandemic is still raging in other parts of the world, our public health emergency is over.
Source : https://www.theage.com.au/national/victoria/are-we-there-yet-the-disconnect-behind-the-pandemic-bill-20211119-p59acq.html
607